Equal Opportunities: One-on-one sign language interpreters for Apple software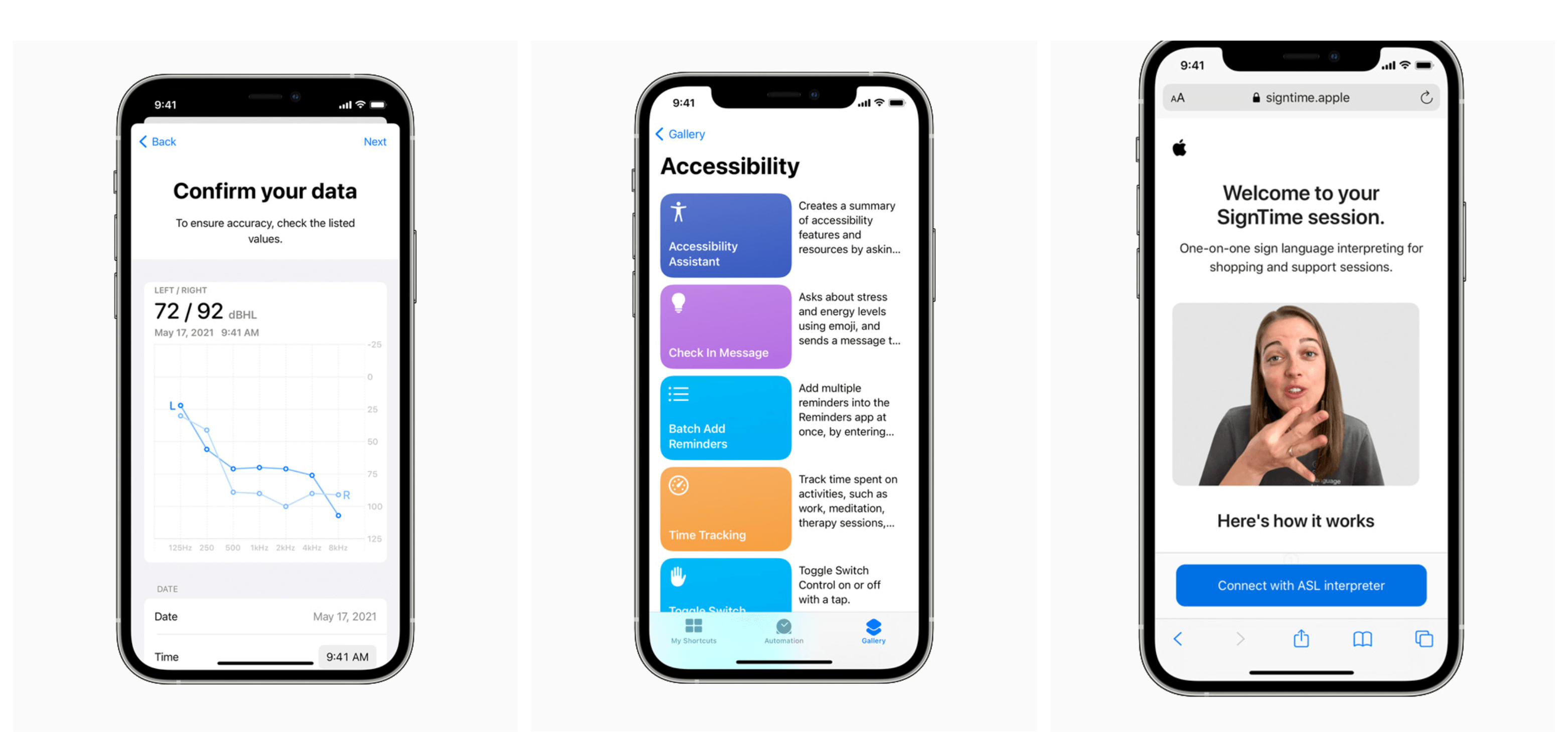 With the aim of delivering "equal benefits" to "everyone," Apple has announced software dedicated to people with disabilities. The cause has been initiated with Apple's belief that "Accessibility is a human right." The company's history in delivering customizable features for all users is another reason for this next-generation technology solution.
The software features robust designs, including sign language interpreters, and the company has announced the updates will take over all of Apple's operating system later this year. The expected added features include;
Assistive touch for apple watch
Third-party-eye-tracking software
VoiceOver screen reader with on-device intelligence
Bi-directional hearing aid called Made for iPhone (MFi)
Assistive Touch – For Apple Watch Users
This is the latest feature for the apple watch to support users with limited mobility. The revolutionary Assistive Touch allows individuals with upper body limb differences without needing to touch the controls. With the use of built-in motion sensors, the watch can detect differences in muscle movement and tendon activity.
Gyroscope, accelerometer, optical heart rate sensor, on-device machine learning are used in developing this latest feature while enabling the users to navigate through hand gestures such as pinch or clench. It further helps Apple users with mobility difficulties to access and use the features easily. These include incoming call answering, motion pointer control, accessing notification and control centre, etc.
Eye-Tracking Support For iPad
This feature allows users to control the iPad using their eyes. The iPad's OS will support third-party eye-tracking devices, and later a compatible MFi will be used. The device can track them and control the pointer according to where the person is looking on the screen. Following the person's gaze, actions will be followed by the device accordingly.
New VoiceOver features
New features have been introduced to the VoiceOver, a leading screen reader for low vision and blind communities. The recent updates allow users to explore in detail. This includes the people, table data, text, and other objects with images. Navigation is accessible in a table like a receipt which contains rows and columns with headers. It further helps in relieving memories in detail and add own image descriptions with personalization.
Bi-Directional Hearing Aids
These bi-directional hearing aids consist of microphones that enable people with hearing difficulties to have hands-free conversations. Later this year, it is expected to have these next-generation MFi models. For headphone accommodations, Apple is also bringing up audiogram charts that can give a hearing test result. The results from these tests can be imported as a paper or PDF and can be used to customize the audio setting accordingly. These further enable it to adjust frequencies and amplify sounds to match with the user's hearing capacity.
Background Sound Solutions
To support neurodiversity, Apple is introducing new background sounds for its users. This helps to minimize the distraction and discomfort from everyday sounds and stay calm and relaxed. From bright or dark noise to natural music such as rain, ocean, the sounds are available and can be mixed into other audio systems.
Future Trends And Features
Given below are a few additional features that Apple is expecting to have at the end of 2021.
Sound Actions for switch control
Customized options for display and text size settings
New Memoji customization
Furthermore, Apple has developed the following collection for differently-abled people to get the most from their Apple devices.
Apple Fitness+ – From the "time to walk" caption, apple has transferred to the "time to walk or push" title for wheelchair workouts. It also includes a trainer who demonstrates modifications for each activity, making it a reality for every user level.
Accessibility Gallery Shortcuts – A useful Siri shortcut to support daily routines and track of daily medication. It helps users to discover the in-built features and resources and personalize them accordingly.
Today At Apple – Virtual sessions in ASL and BSL to teach the fundamentals of apple devices for disabled people.
App Store Stories – Read stories about a blind TikTok influencer, Lucy Edwards, where she discusses her favourite apps.
Apple TV app – The feature consists of a celebration representing authentic disability onscreen and behind the camera.
Apple Books – Reading recommendations from Judith Herumann, an author and disability rights activist.
Apple Maps – New guides to help users to connect with businesses and organizations that embrace, prioritize, and value deaf community and sign languages.
Introducing the Macintosh in 1984 and revolutionizing personal technology, Apple strives to lead the world in innovation and provide a seamless experience to its users.